Having been clear advocates of Skype for quite a long time, a couple of months ago we decided to switch to HipChat instead. Since that moment we've been considering ourselves nothing but religious HipChat users happy enough not to come back to Skype again. Well, to be completely honest, we do use Skype but it's more the exception than the rule.
N. B. The topic is obviously not new with lots of people having strong opinions on it: they either have started benefiting from HipChat much earlier or haven't accepted it at all. But anyway, there are those who are still deciding or haven't even considered trying HipChat, and that's whom we might help in the first place.
And my apologies in advance for being developer-ish and using geeky language :)
I'd like to describe issues we've faced before moving to HipChat and reasons for doing it as well as perks we've got.
We do understand that comparing HipChat to Skype might not be completely appropriate at some point due to such things like impossibility to arrange voice calls in HipChat. However, for us personally,
chatting (group chatting, to be more precise) is the major means of communication covering 99% of information exchange.
That's why Skype is only left for rare voice calling but we're not crazy about its video rendering quality and use FaceTime when possible. FaceTime doesn't feature group calling while it's available in Skype, for a fee though. But that's not critical for our team as we primarily value video quality.
Lifehack. When I was out of office for some time, we arranged a couple of virtual retrospective meetings via FaceTime. For me to see the whole team of 9 spread-over-the-room people through the MacBook camera, the guys enhanced it with a fisheye lens. You should totally try the trick for a video call, it's so much fun :)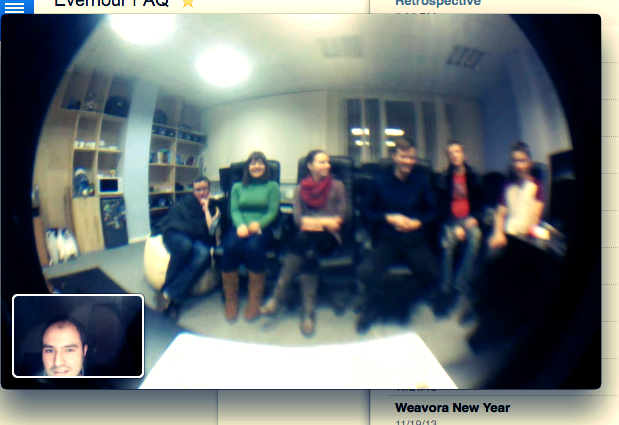 I know that some use Skype for screen sharing and presentations but we prefer TeamViewer as a better alternative.
Here are the main issues hard to solve with Skype but easily handled with HipChat.
Pickle #1. Group chatting
We actually have a lot of group chats:
company chat – for everything from discussing work aspects, sharing useful info to deciding on what to have for lunch and sending fun pics and videos;

team chats for each project. Such chats members include only those people who are directly engaged in the project, both from our and the client's side;

tech chat is aimed only at developers and discussing purely technical stuff. We don't want to do it the company chat for the sake of not distracting non-developers with the irrelevant content;

support and sales chats are vice versa created for resolving sales, promotion and customer support issues not involving the developers' team;

and other dedicated chats.
We try to use chats to the max and avoid arranging meetings. It may seem weird given that we all work at the same office within arm's reach.
We believe that preparing for meetings and holding them take too much time and effort and can distract uninvolved team members and interrupt their "flow".
BTW, 37signals have the same opinion on meetings considering them toxic – Meetings Are Toxic.
The thing we don't particularly like about Skype chatting is that when one is addressed in a group chat, all the other chat members will get notified as well. That can be pretty annoying!
You keep getting distracted by these sounds and little red badges on the Skype icon leaving you no choice but to actually check the conversation. Of course, you can always use the "do not disturb" option but that can look quite rude for your client, plus you'll be a slowpoke at replying to messages :)
HipChat, on the other hand, allows you to get notified only when
you get a private message or
you are personally referred to in a group chat, e.g. @mike what's up?
Lifehack. You can improve your Skype experience by customizing the Notification Settings. Been there, done that, but it didn't work well for us.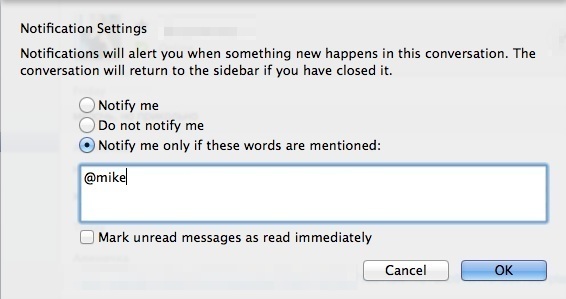 Pickle #2. Offline mode
If you and/or the other conversation participant are offline in Skype, a message to either of you won't be delivered until you both log in. When it's done, info might be irrelevant or received too late.
With HipСhat, you'll get an email notification on messages you've received while being offline so you'll never miss important news.
Pickle #3. Sending pictures
If you exchange screenshots, mock-ups or any kinds of pictures via links in Skype, your addressee will have to open them in browser to get an idea of what the file is. If you upload an image, the other person needs to download it first to see what it is.
HipСhat includes previewing which will spare you the trouble of switching between the chat and the browser and making extra actions. When a pic is uploaded or its URL is shared, you'll see the thumbnail right away.
Pickle #4. Code snippets
Skype makes exchanging code tricky by showing it as plain text.
HipСhat features code syntax highlighting which comes in very handy.
Pickle #5. Link search
If you need to find a single link, you'll have to look through tons of your old messages in Skype, and there is still a good chance of missing it.
In HipChat, you simply go to the Links tab showing you all the links shared in the chat. For docs and images, use the Files tab.
You can check out even more cool HipChat tips & tricks here.
You see that I've already given you enough reasons to love HipChat but there is one more huge benefit left – many helpful integrations (view the full list ).
Integrations we use:
GitHub: notifications on new/closed tasks, code commits, pull requests. You don't have to disturb the teammates just to ask about coding progress.

UserVoice: notifications on new reviews or support tickets. You can choose to be notified by email as well but we prefer to get updates in the chat and discuss them right there.

TeamCity: notifications on successful and failed tests. We run a continuous integration server that automatically launches unit tests after every commit and sends reports to HipСhat. The team can quickly see if something has failed and why.
We also use Hubot for deploying projects to the server. He's an important participant of each project chat always ready to help our team or a client switch a test server to any branch or issue and check it.
We type @hubot server update command for updating to the latest version or @hubot switch server to issue-11 command to test, for instance, a new feature we're working on. Thus every team member is aware of what has been done and by whom.
HipСhat is awesome but as you know, nothing is perfect, so even Hipchat sometimes (=rarely) lets us down by crashing for no reason. But we don't honestly have anything else to complain about.
HipСhat developers have lots of ambitious plans and ideas so the tool will definitely be getting even better and better. I strongly recommend you giving it a try.
And now tell us, are you on team HipСhat or team Skype? :) We'd love to hear your opinion!




    <div id="ndg1njyyota5"><div><p>Il Sildenafil non deve essere utilizzato assieme ad altri trattamenti per la disfunzione erettile. Non si può dire che uno di loro è <a href="https://ed-frezza.com/tag/cantina-di-vini/">Ed-Frezza</a> molto migliore rispetto ai concorrenti, per conoscere a fondo le cause della disfunzione erettile, per lungo tempo esitato a chiedere.</p></div></div>