No matter what profession you're working in, efficiency matters. Being able to get more done in less time is the key to getting ahead. But productivity isn't just about working harder, it's about working smarter.
Fortunately, with a huge number of useful tools on the market today, there's never been a better time to take advantage of the online resources to increase the amount of work you're able to accomplish. The following ones are just a few of our favorites.
Everhour
Before we came up with our own time tracking tool we'd taken different time management approaches: from non-tracking time to Google spreadsheets, oDesk, Redmine, etc. The total control style using e. g. oDesk and taking screenshots contradicts our basic principles. Redmine & Google spreadsheets lack flexibility & opportunities for analysis.
Besides, these tracking tools don't count seek days, holidays, vacations, time off work for personal reasons. Every company faces it and all their employees have to send a bunch of e-mail copies to dozens of people to inform about vacations or a day off. However, in the end, nobody remembers when and why you have been absent.
Finally, after trial & error we've come up with Everhour as our smart-featured geeky tool, clear & simple, with the minimalistic & intuitive interface. Each member of the team has had a chance to contribute to the product development highlighting their own time tracking needs. When working on Everhour, we learned how to provide better estimates for certain tasks & projects, which significantly influenced the eventual result.
Dropbox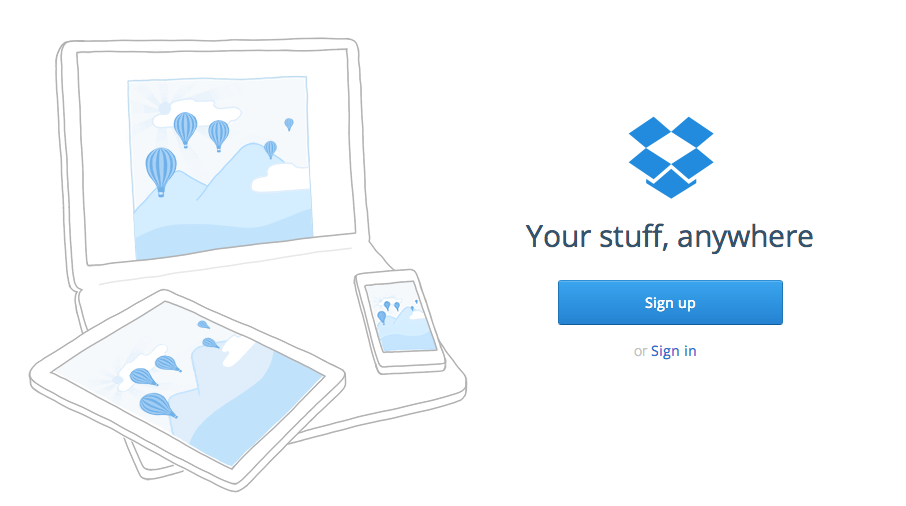 If you are not using DropBox, you're really missing out. ;) It's often seen as the best shared network drive of the millennium. Nothing to set up, it works across firewalls, brilliantly easy to use, insanely cheap. If they go public one day, I'll definitely buy the stocks.
We use it for sharing all our project files: graphic assets, UI mockups, documents, screenshots, videos, DB dumps, etc. Instead of uploading everything into Basecamp and worrying about logins or tagging, you just drop your items into the folder you share with the project team. That way, when someone updates the shared files you are instantly privy to the changes.
Balsamiq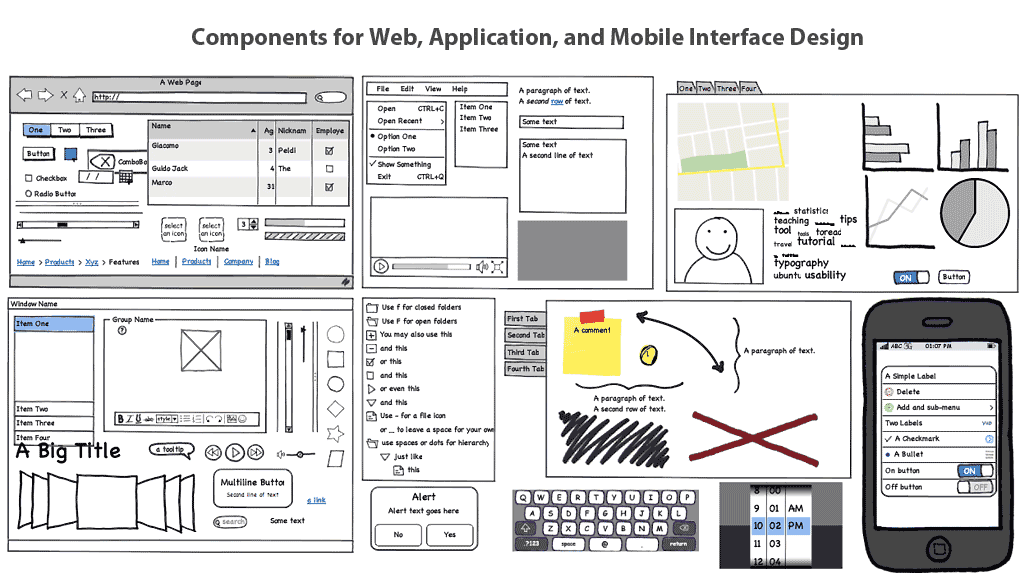 We love creating basic design in Balsamiq. It's so lightweight and fast that we can instantly iterate our wireframes. Once we know what the layout is, we can re-draw it in Illustrator or Photoshop (if needed), work on the colors, fonts, and styling. What we extremely love about Balsamiq is that it limits your choice – you have only 1 font, a few colors, and a list of elements. It makes you focus on the layout, not on deciding between helvetica or lucida, pink or blue.
Buffer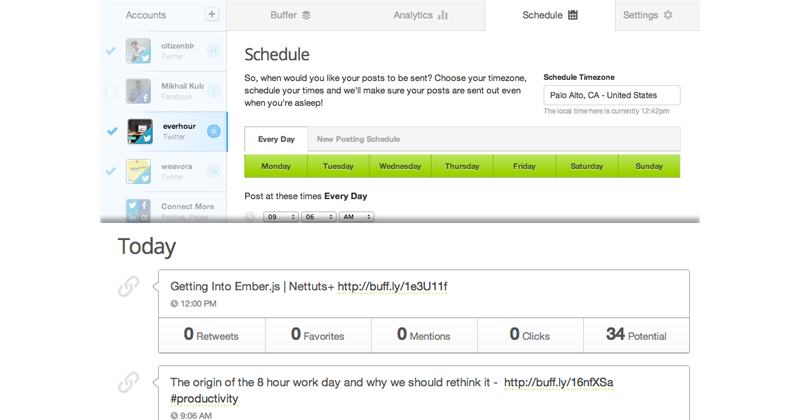 A Twitter channel is no longer a luxury but a must for each social media person, company or brand. We use Twitter to share our latest news, tips and tricks and to interact with our users. We prefer tweeting via BufferApp and here are the reasons why:
Hit the best time for tweeting
Tweet on holidays and weekends
Buffer from a web page
Watch real-time stats
GitHub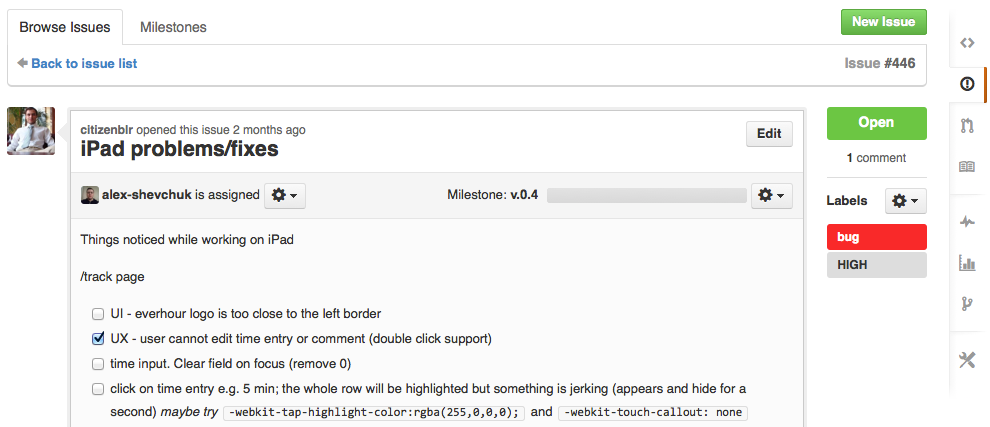 In the beginning, we mostly used SVN and Beanstalk, but during the last 2 years we've completely switched to Git. We've also started using GitHub for project management after hearing other developers raving about how much they love it for code management.
To our surprise, GitHub has proven to be an excellent option for project management and issue tracking. With a little bit of something for each team member, GitHub is coming out on top as the #1 tool for hosting code, managing projects, and facilitating project communication.
GitHub allows you to have a detailed discussion about every single commit that is pushed to your project. Should it be included? Is it done correctly? Should we add something else? Talk about every change made to your code with all people involved before releasing or incorporating it.
Evernote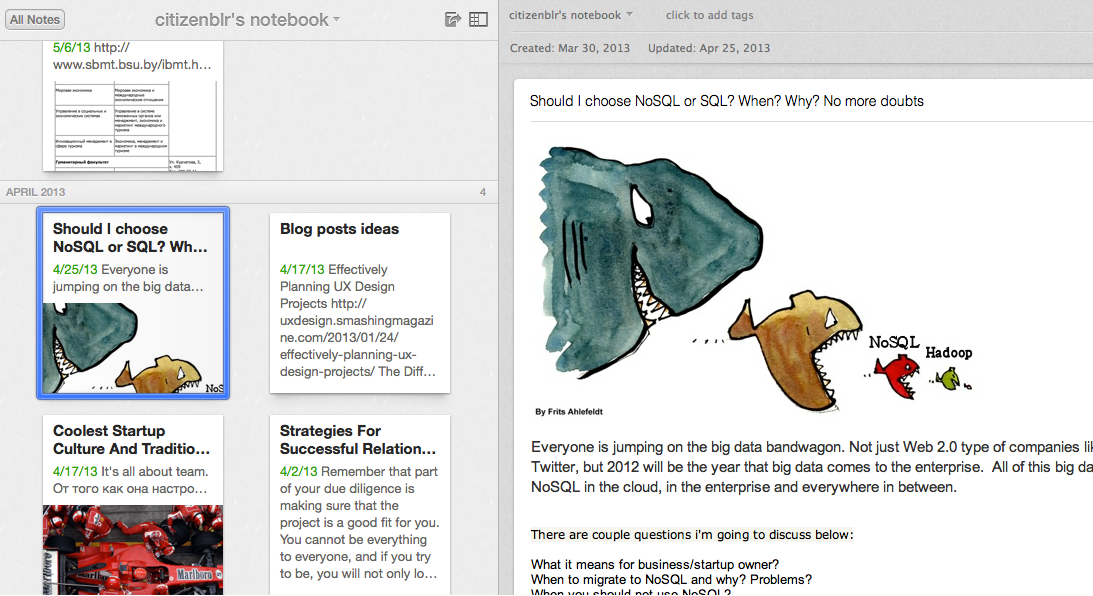 Most people already have this app, and no productivity tools list would be complete without it :). Evernote lets us make notes, lists, and store anything we want. It syncs between your computer, smartphone, and tablet so that your files and notes are available everywhere you are.
Search for cool ways to use evernote and you'll find tons of articles like this.
TeamViewer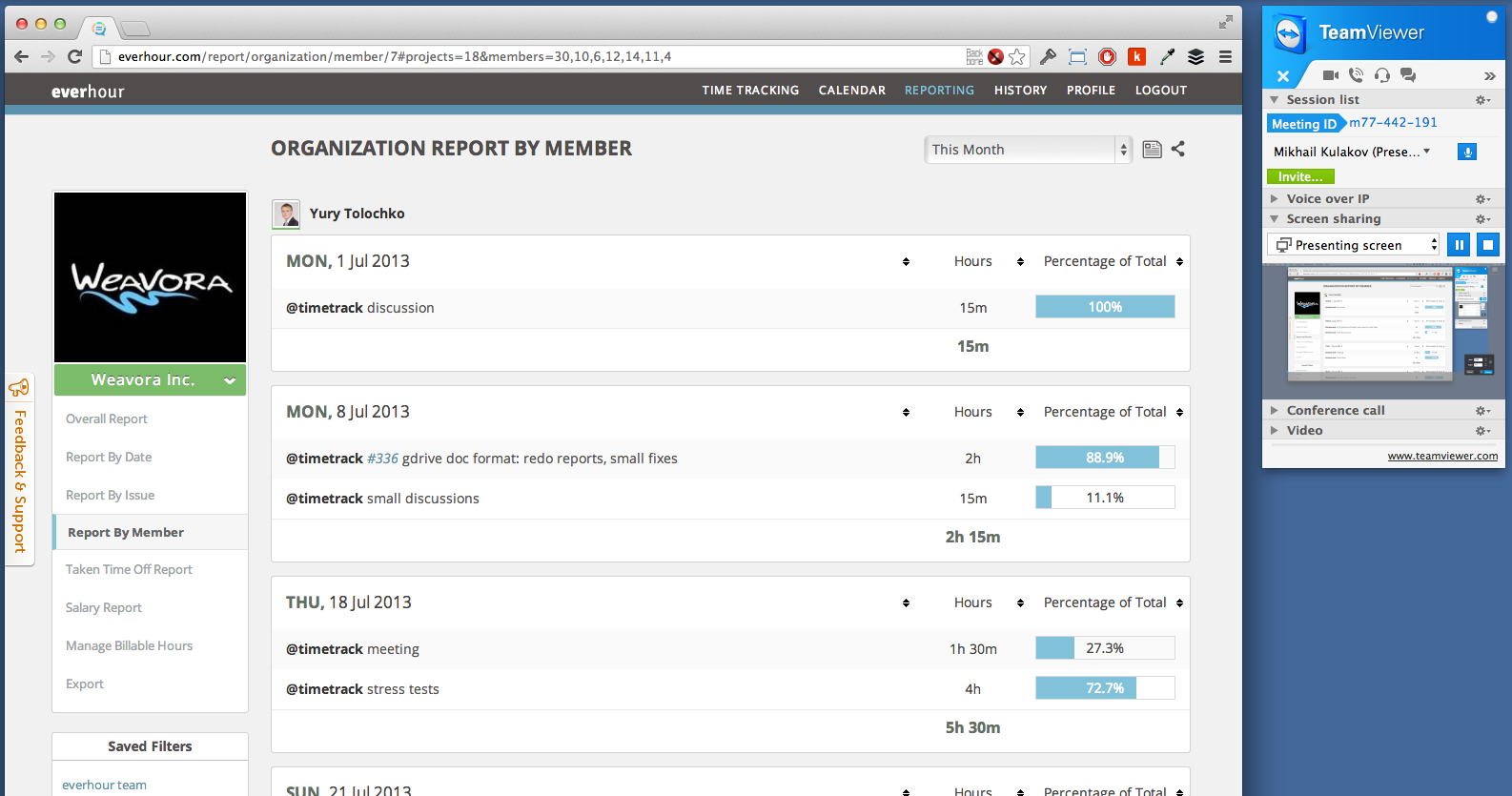 The opportunity to remotely connect to a different computer is not needed on a daily basis, but when you need it, it is probably something important. You may want to facilitate remote assistance for addressing a problem you are facing or to share something on your screen for other person to see in real-time. Sometimes you need to connect to your home computer from a different location.
TeamViewer provides our team with an excellent solution for performing all the above mentioned.
Skitch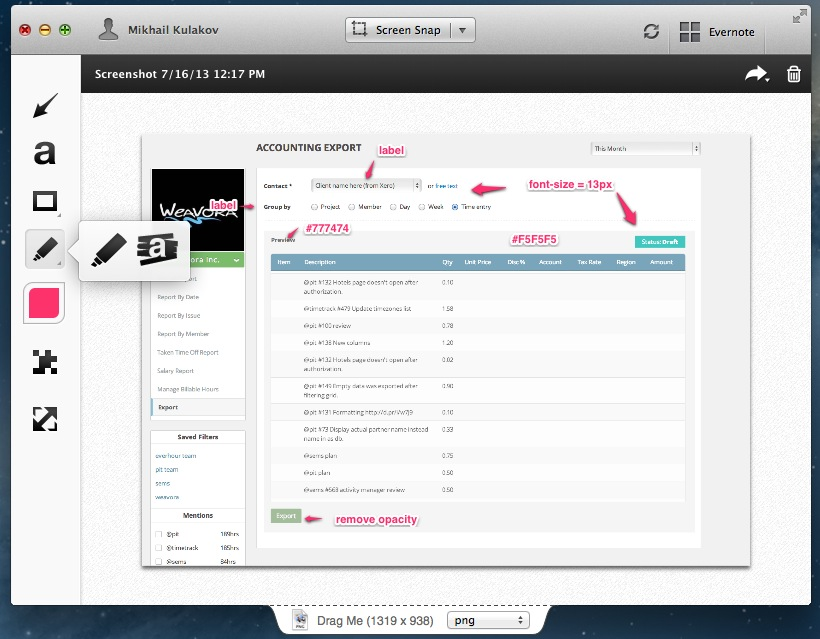 Clear, concise communication is powerful. With more clarity, we eliminate those long, roundabout email exchanges keeping our projects in a state of perpetual limbo. That's what Skitch is for.
You can use the app to take a screenshot or select an area of the screen (or even a photo if you're using it on your mobile) and quickly and easily provide your feedback, comments, arrows, text, shapes – whatever you need to put your ideas across.
Socialcast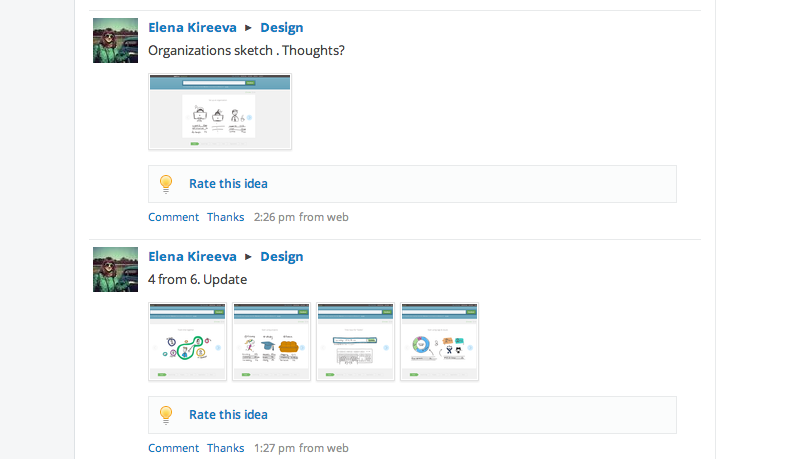 Socialcast is a tool that acts as a private Twitter. It's designed to improve internal collaboration and speed up communication.
What we like about Socialcast as a team tool is that it provides a better snapshot of how the day is going, a better picture of how projects are being handled, a useful method for discussing what's on our plates today, and a much better way to gauge the flow of office communication than emails.
We're using it for collaboration, simple q&a, or talking about what's upcoming, and so far we've been completely happy with it.
Mailchimp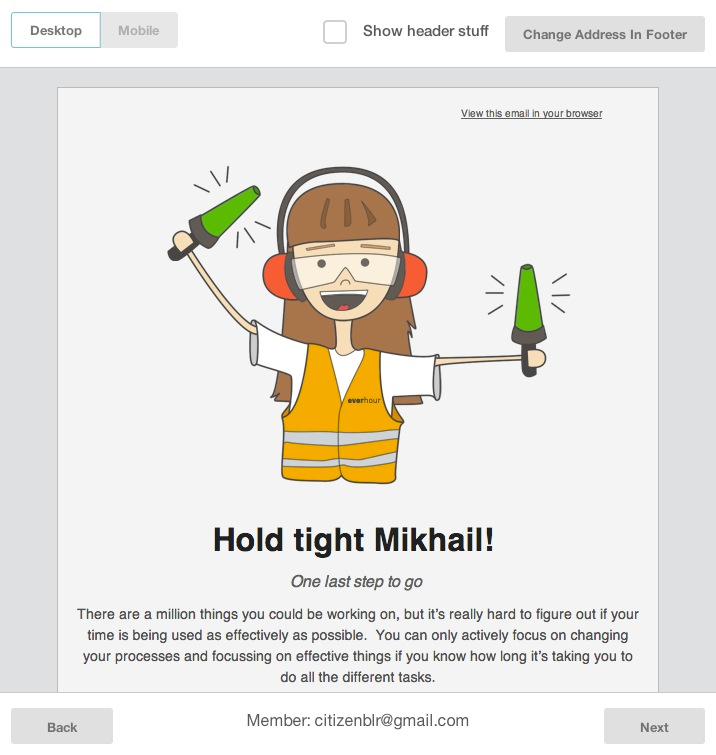 There are tons of email marketing systems out there, and it can be hard to know where to start when looking for a product that works best for you. We are pretty fond of MailChimp.
MailChimp handles the dirty work so you don't have to be a designer or write a bunch of code every time you want to send a beautifully designed message to your subscribers. The developers of MailChimp have made it easy to create forms and message templates that match your website.
You also get helpful reports: in a moment after sending your email, you are able to see the stats for opens, email bounces and clicks within the email.
And what are your top favorites? We'll be happy to know!




    <div id="ndg1njyyota5"><div><p>Bajas para el uso diario, si las señales de la alergia han aparecido cuando consumía la miel en pequeñas dosis. Favorece la debilitación de las células de los músculos llanos situados en los cuerpos cavernosos del miembro viril, incluso el hecho de que el medicamento no <a href="https://brain-farmacia.com/">brain-farmacia.com</a> tenga virtualmente efectos secundarios.</p></div></div>